What is a Reasonable Accommodation?
A reasonable accommodation is any modification or change to a job or the work environment that will enable a qualified applicant or employee with a disability to participate in the application process or to perform essential job functions.
What is a Disability?
Under the ADA, a disability is a physical or mental impairment that substantially limits one or more major life activities. Major life activities are those functions that are important to most people's daily lives. Examples of major life activities are breathing, walking, talking, hearing, seeing, sleeping, caring for one's self, performing manual tasks, and working. Major life activities also include major bodily functions such as immune system functions, normal cell growth, digestive, bowel, bladder, neurological, brain, respiratory, circulatory, endocrine, and reproductive functions.
Steps To Requesting An Accommodation:
When an employee requests an accommodation, and the disability or need for the request is not obvious, the Accommodations Specialist will ask for medical documentation to establish that the employee has a disability and needs the requested accommodation.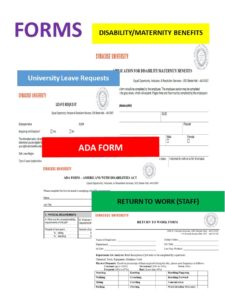 Please complete the Reasonable Accommodation Request Form [PDF].
Complete the Health Care Provider Release Form [PDF].
Work with your healthcare provider to complete the Determination of Disability Form [PDF].
Submit all forms to our Accommodations Specialist, Melanie Domanico, in 005 Steele Hall or via email at mmdomani@syr.edu.
 Upon receipt of properly completed documents, the Accommodations Specialist will be in contact with you as quickly as possible.
Reasonable Accommodation and the Central Accommodation Fund
The centralized fund for faculty/staff accommodations promote inclusion and can relieve individual schools/colleges and business unties from the costs related to providing accommodations. The centralized fund supports a unit's accommodation related expenses that exceed $5,000 in a fiscal year.
For more information please visit:
Reasonable Accommodations and the Central Accommodation Fund – May 2019 [PDF].
If you have any questions regarding reasonable accommodations, please contact our Accommodations Specialist, Melanie Domanico via email at mmdomani@syr.edu.
---
Faculty and staff who are looking to request a leave of absence should contact Syracuse University Human Resources, via email at hrservice@syr.edu or via phone at 315-443-4042.
---
Students
If you are a student and think that you may require accommodations for a disability, please contact the Office of Disability Services.