What is a Responsible Employee?
As a University community member, we all play a role in providing support and assistance to those in need. Not only does this enable us to create a welcoming and respectful environment, but it also ensures that all members of our community understand our goals and obligations as it relates to providing safety for all persons of all ages who participate in University programs.

All members of the campus community, including faculty and staff, are designated as "Responsible Employees" and therefore must disclose all information related to sexual misconduct reported to him/her with the Title IX Coordinator.
Title IX Information for Faculty & Staff
Under Title IX, all employees who know or reasonably should know information related to harassment or other sexual misconduct (except if the person received that information through a privileged relationship such as a licensed therapist working with her or his client or an attorney giving legal advice to her or his client) must inform the University's Title IX Officer: Sheila Johnson-Willis, 005 Steele Hall, 315.443.0211, TitleIX@syr.edu.
We understand that these situations can lead to difficult discussions so we've added a few tips to help you navigate the conversation.
Read more here if you want to know What is Title IX?
---
What is Confidential versus Privacy?
Confidentiality may be offered by an individual who is not required by law to report known incidents of sexual assault or other crimes to University officials. These offices are the:
Athletics Department physician
Health Services heath care providers
Hendricks Chapel chaplains
Privacy may be offered by an individual when such individual is unable to offer confidentiality under the law but shall still not disclose information learned from a reporting individual or bystander to a crime or incident more than necessary to comply with laws. These include the: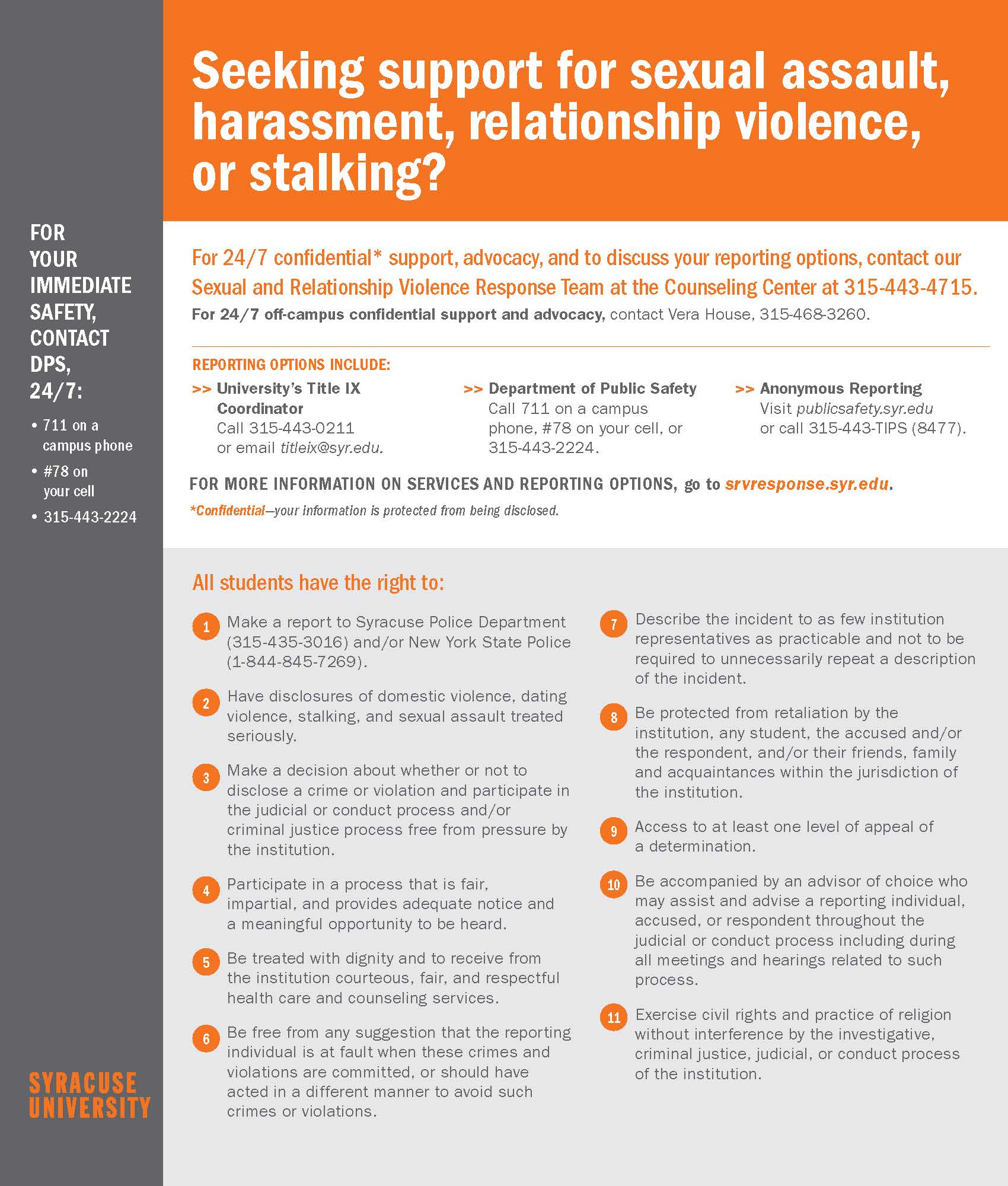 Title IX Coordinator
Department of Public Safety
Office of Student Assistance
Academic Coordinators
Residence Life Staff/Resident Advisors
Coaches/Athletic Trainers and Faculty/Staff

Click the flyer to the right for additional information.
---
Your Duty to Report Information
All other members of the campus community, including faculty and staff, are designated as a "responsible employee." Responsible employees:
Must

—

discuss information shared by students that implicates our policies with the Title IX Coordinator
Goal

—

to ensure that:

student/reporter's needs are met,
that the accused/respondent is treated fairly, and
campus safety needs are met.
---
How to Respond to a Student/Reporter
Listen carefully and without judgment or defensiveness.
Remember that your students (particularly new students) may not have a support network at the University;

they might not know or remember the availability of the privileged resources; their coping skills might be compromised simply because of all of the other things going on in their lives (new friends; demanding course work; new place, etc.).
Helpful Things to Say:
You seem upset. Can I be of any help to you?
What can I do for you?
I'm glad you came to me.
Do you have any concerns about your safety?
There are places on campus that can help you.
Seek to connect the student to the Sexual and Relationship Violence Response team (315-443-4715).   Take the student to the Counseling Center if possible.
---
IX Things to Keep in Mind…
When Responding to an Individual Who Shares Concerns Involving Sexual Misconduct or Discrimination/Harassment
Before obtaining all of the details, explain that you must report to the Title IX Coordinator so that we can make sure the student's needs and campus safety needs are met
Remember to keep our community goals in mind, so seek to connect the student to the Counseling Center and provide them with the Student Bill of Rights
If concerned about safety or criminal activity, dial 911 or call Campus Safety (DPS) 443-2224
Listen without judgment and avoid asking questions that begin with "why"
Understand that in matters involving students, the student/survivor drives the process.  Therefore the student can determine the extent to which they would like intervention by the University
Remember that Interim Relief (including no contact orders, room relocations, and academic accommodations) may be provided
Remember that this matter is confidential.  Therefore, refrain from sharing information with individuals that do not need to know
Understand that you should not investigate the matter further or contact/confront the alleged offender
Inform the Title IX Coordinator within 24 Hours at TitleIX@syr.edu
Direct them to contact one of these offices, if they have any questions:
Provide the student with the Student Handbook and our Sexual Harassment Prevention Policy, if possible.
---
Informing the Title IX Coordinator
Within 24 hours by telephone (315-443-0211 ) and/or email (TitleIX@syr.edu), inform Coordinator of:
Who reported it, to whom, about whom, and who else has been notified;
What was reported (focus on facts not on conclusions);
When did it happen (without regard as to when) and when was it reported;
Where did it occur (such as specific address, name of residence hall, etc.)
Retaliation against any individual for reporting concerns to the University is strictly prohibited.
---

---
Reporting Concerns to the University
To report concerns regarding harassment and/or discrimination contact us at Equal Opportunity.